Pay attention to your moles
Skin moles may be divided into benign and malignant in terms of their nature and the risks they may cause. These two categories have important differences regarding diagnosis, behavior and treatment. In the following, we will examine the main differences between these two categories of moles.
Benign moles
• Usually fixed: Benign moles usually stay fixed and generally do not change shape.
• Harmless: These types of moles are harmless and generally do not pose a health risk.
• There are no changes in size and shape: Often, in the case of benign moles, changes in size and shape are not observed.
• Do not spread to other parts: Benign moles are generally confined to the skin and do not spread to other parts of the body.
Malignant moles
Visible changes: Over time, they can have changes in size, shape, color, and density.
• They spread to the surrounding environment: They can spread to the surrounding tissues and organs, which can be a dangerous sign.
• They cause suspicious signs and symptoms: they may cause the appearance of symptoms such as bleeding, pain, changes in the surface of the mole, etc.
• Have serious health risks: These types of moles may be very dangerous to health and require immediate treatment.
The best approach is always to consult a dermatologist for any blemishes that seem worrisome. They can provide an accurate diagnosis regarding the seriousness of the condition and recommend appropriate treatment if necessary.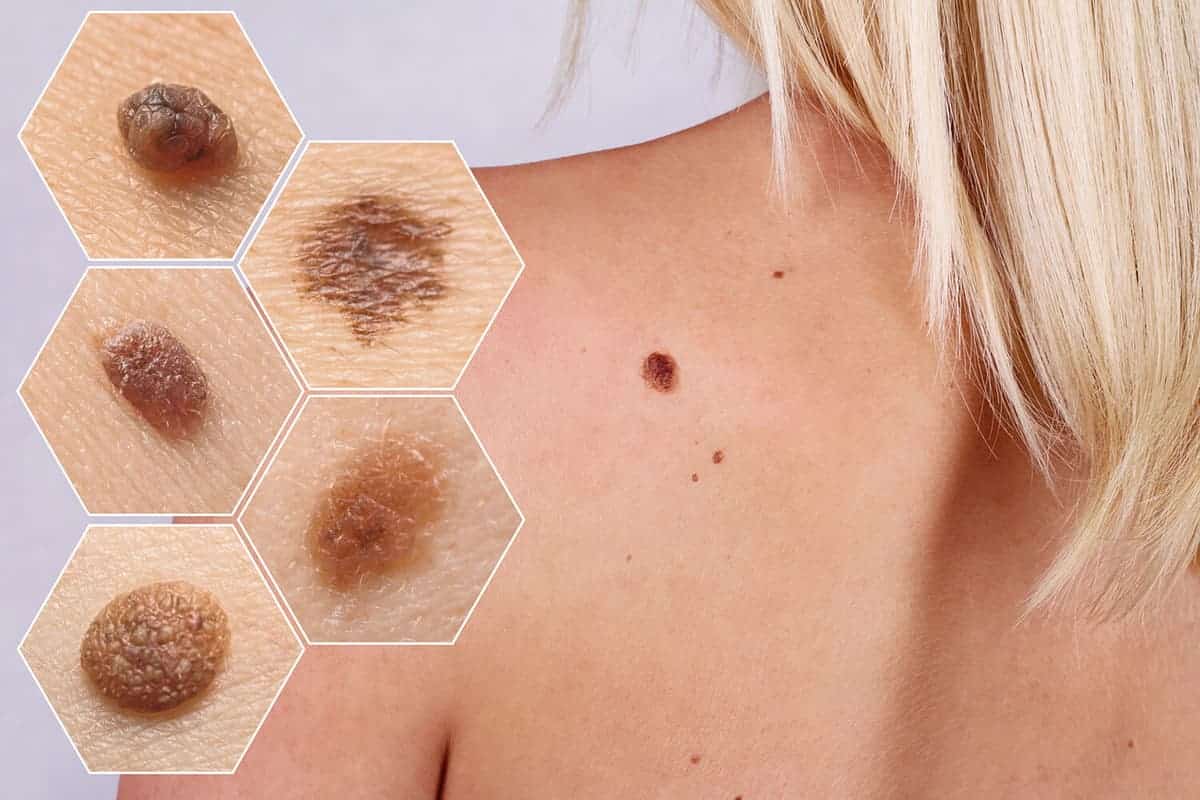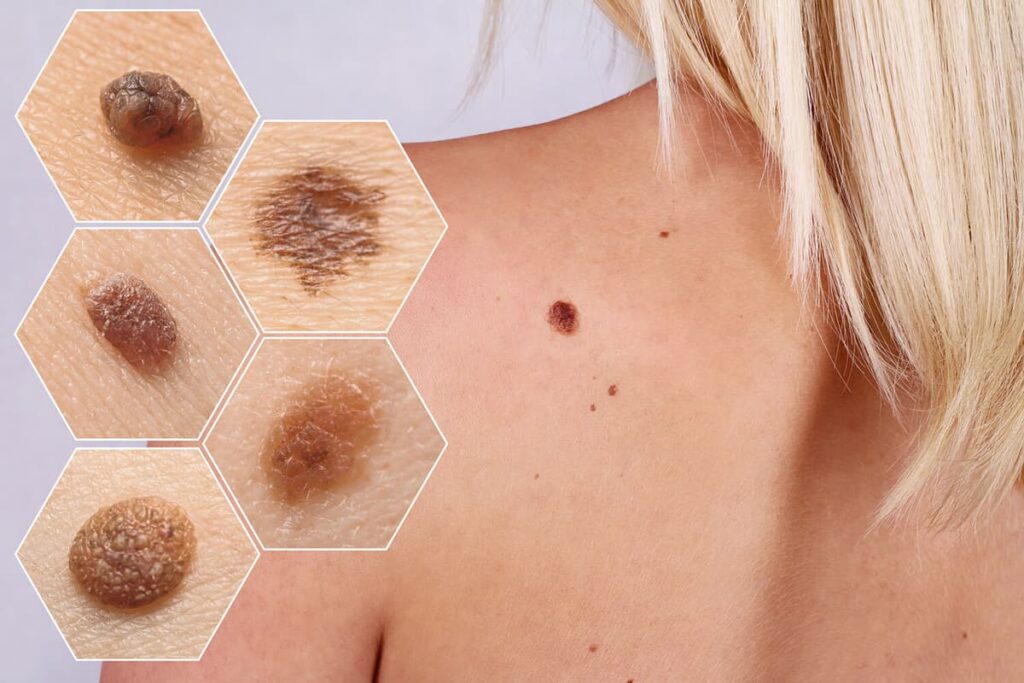 Signs of malignant moles
Malignant moles, or skin cancers, may have different signs and symptoms that you should be aware of so that you can see your doctor if necessary. These symptoms may include:
• Changes in the mole's size, shape, and color: If you have a mole or spot on your skin and its size, shape, or color changes over time, this may be a suspicious sign.
• Persistent itching or pain: If a particular mole itches or hurts, this could be a sign of a malignant problem.
• Enlarged lymph nodes: Lymph nodes or lymph nodes under the skin may enlarge at a malignant mole's site.
• Bleeding or discharge of abnormal fluids: If the void is bleeding or other abnormal fluids are coming out, this may be a suspicious sign.
• Persistent redness and inflammation: If the mole is persistently red and inflamed and doesn't seem to be getting better, this could be a suspicious sign.
• Open wound or wound that does not close: If there is a wound at the site of the mole and it does not close for a long time, this may be a suspicious sign.
Also, it is important to never make a final diagnosis yourself. If you notice any of these symptoms, see your doctor for a full evaluation and, if necessary, appropriate treatment.
Why should we care if our aunt is malignant?
Malignancy of a mole or skin change is important because it may indicate the presence of skin cancer or another serious problem. These things are very important because:
• Early detection: Early detection and diagnosis of skin cancer is very important because it allows the doctor to start a more effective treatment.
• Preventing the spread of cancer: in case of early diagnosis, the probability of success in treating skin cancer is higher. This can help prevent the spread of cancer and penetration to other areas.
• Ensuring a longer recovery: When skin cancer is detected and treated early, the chances of a full recovery are much higher.
• Reduction of complications: If skin cancer is detected and treated in the early stages, side effects and subsequent problems will be avoided.
• Prevention of cancer recurrence: Early treatment of skin cancer may prevent recurrence of the disease in the future.
In other words, the importance of early detection of whether or not a mole or change in the skin is malignant is very important in the timely diagnosis and treatment of skin cancer and the improvement of a person's health.
Important things you need to know about improving the condition of moles
Moles on our skin can be very effective. Here are five important tips for managing moles and improving skin condition:
• Cleanliness and proper care: wash your skin daily with warm water and proper soap. Using the right moisturizer can also help.
• Use of creams and gels: Some creams and gels can help reduce moles. Substances such as salicylic acid, retinoids, and antibiotics may be effective.
• Use of sunscreen products: Harmful rays of sunlight can aggravate moles. Regular use of sunscreens suitable for a person's age, conditions, and living environment can help.
• Treating inflammation: If moles are caused by inflammation, using anti-inflammatory and therapeutic products can help.
• Healthy diet and plenty of water: A healthy and varied diet can help improve the condition of the skin. It is also very important to consume enough water to maintain skin moisture.
Important: Never squeeze or apply pressure to the moles with your hands, as this can aggravate the moles. If you have specific skin problems, it is always better to consult a specialist doctor.
Get your free consultation with Irsa team right here

WhatsApp: 00989170626693

Email: irsaarabic@gmail.com

www.youtube.com/@irsaclinic

www.facebook.com/irsaclinic
Also read:
Eyebrow transplantation in Iran Shiraz
Applications of fractional CO2 laser