Why Eyelashes Weakened and Falling Out?
Weakening and falling of eyelashes can be due to various reasons, which we will discuss below:
• Age: With age, eyelashes can become thinner and weaker, and as a result, fall out easily.
• Improper nutrition: Improper nutrition and lack of vitamins and minerals can weaken eyelashes and their loss.
• Stress and mental pressure: Stress and mental pressure can lead to the loss of eyelashes and head hair.
Using the wrong moisturizers and care routines: Using the wrong moisturizers and eyelash care products can lead to damage and shedding.
• Environmental factors: chemicals such as cigarette smoke, air pollution, and changes in weather can lead to weakening and shedding of eyelashes.
• Diseases and medical factors: Some diseases and medical factors such as thyroid diseases and nutritional deficiencies can lead to eyelash loss.
• Use of inappropriate cosmetics: using inappropriate and low-quality cosmetic products such as mascara and heavy and hard mascaras can lead to damage and loss of eyelashes.
If this problem has become a problem for you, it is better to consult a doctor or a skin and hair specialist to identify the cause of the problem and provide appropriate treatment.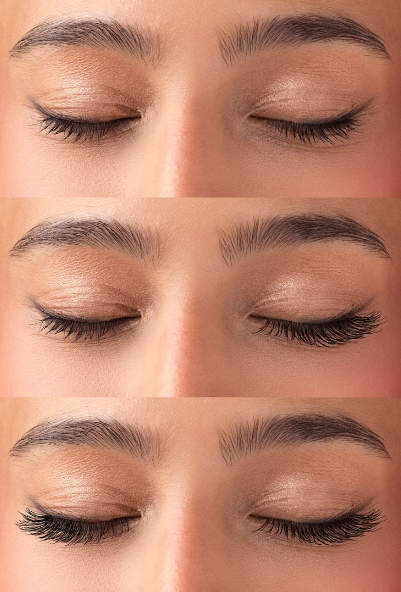 What to do to strengthen eyelashes in Iran?
To strengthen eyelashes and increase the attractiveness of your eyes, you can use the following methods and care.
Eyelash massage
Gently massage your eyelashes using your fingers. This action helps stimulate the blood vessels around the eyelashes and promote hair growth.
Use of natural oils
Natural oils such as coconut oil, castor oil, avocado oil, and olive oil can help strengthen eyelashes. Every night, apply one drop of one of these oils to your eyelashes and gently massage.
Using eyelash enhancers
Some products in the market such as eyelash serums and masks can help strengthen and grow eyelashes.
Nutrition
Nutrients such as proteins, vitamins E and B, iron, and zinc can help grow and strengthen eyelashes. Make sure you get enough of these ingredients in your diet.
Using an eyelash mask
Like hair, there are natural masks to strengthen eyelashes. For example, a mixture of aloe vera and mascara can nourish eyelashes.
Use of nutritional supplements
There are some nutritional supplements containing vitamins and minerals useful for the growth of hair and eyelashes, which can be effective in strengthening eyelashes.
Using an eyelash comb
Also remember that the cleaner the eyelashes are, the better they will grow. You can use an eyelash comb to keep your eyelashes clean and prevent them from tangling.
Avoid frequent contact
Avoid touching and pulling the eyelashes frequently, as this action may cause damage and brittleness of the eyelashes.
Use neutral products
Products incompatible with the environmental pH of eyelashes may cause sensitivity and damage to them. Therefore, use products with a mild and appropriate PH.
Regular cleaning
Regular cleaning of eyelashes from foreign bodies and makeup can help strengthen them.
Using an eyelash curler
Some people may beautify their eyelashes with an eyelash curler. However, this should be done carefully so as not to damage the eyelashes.
Care during sleep
While sleeping, you should also avoid touching your eyelashes and touching your face with the mattress or pillow in order to prevent injuries caused by this operation.
If you pay attention to these measures and take care of your eyelashes, your eyelashes are likely to achieve more health and attractiveness.
How to strengthen our eyelashes after eyelash removal?
After eyelash implant removal, you can take special care to strengthen your eyelashes. Here are some tips to strengthen your eyelashes after eyelash removal:
Use of care products
To strengthen and maintain eyelashes, use eyelash care products. Products that contain vitamins and minerals useful for hair growth can be helpful.
Compliance with proper nutrition
Proper and balanced nutrition is very important to strengthen hair and eyelashes. Foods containing protein, vitamins (such as vitamins A and C) and minerals such as iron and zinc can help grow eyelashes.
Use of special oils
Some oils, such as argan oil or shea butter oil, have compounds that help strengthen hair and eyelashes. Apply one drop of such oils to your eyelashes daily and massage well.
Use of care serums
Care serums containing strengthening ingredients can help strengthen eyelashes. These serums should be used carefully on the eyelashes.
Use of moisturizing sprays
Using moisturizing sprays can keep eyelashes soft and supple.
Avoid using mascara and heavy mascara
Using mascara and heavy mascaras may put a lot of pressure on the eyelashes and cause them to be damaged. Therefore, it is preferable to use gentle products after removal.
Using an eyelash mask
Using eyelash masks that contain strengthening ingredients can help strengthen eyelashes.
Avoid using chemicals
Chemicals such as hydrogen peroxide and ammonia used in hair dyes can damage eyelashes. Therefore, if possible, avoid using these substances.
Long-term care
Strengthening eyelashes requires patience and continuous care, especially after eyelash removal, due to excessive dryness of eyelashes, the possibility of fragility of eyelashes is higher, therefore, you should continue the recommended care until the eyelashes return to normal moisture.
Visit a dermatologist
If the problem of eyelash loss is severe, it is recommended to consult a skin and hair specialist. They can introduce you to specific tips and products to solve this problem.
Get your free consultation with Irsa team right here

WhatsApp: 00989170626693

Email: irsaarabic@gmail.com

www.youtube.com/@irsaclinic

www.facebook.com/irsaclinic
Also read:
Applications of fractional CO2 laser
Eyebrow transplantation in Iran Shiraz