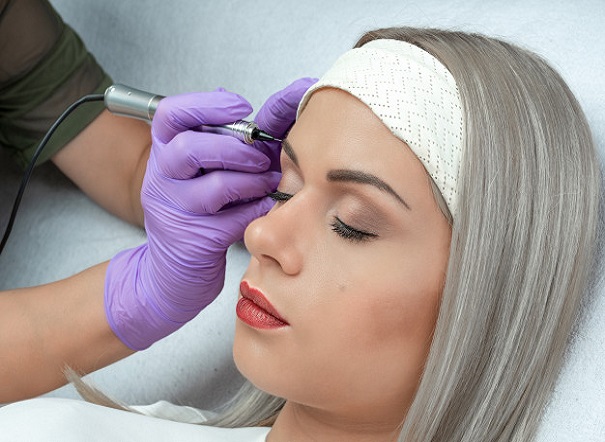 What is Micropigmentation?
Micropigmentation
Permanent makeup or micropigmentation is a new method in tattooing and it is used to design on the skin.
If you are wondering how some women have make up during the day, and their makeup is not removed by sweating, or even men without hair transplants, their bald looks full of hair, so here we will tell you the reason.
What is micropigmentation?
Micropigmentation is a method, which is based on medical science, pigments are implanted at a certain depth in the skin that cause the least damage to the skin tissue. This process is done with standard devices and sterile tools, during which it applies permanent makeup according to the customer's interests. In addition to its cosmetic application, micropigmentation is also used in medicine.
Micropigmentation is a natural face reconstruction and balancing, and as a result, it has less damage, pain, and bleeding than tattoos. By the time, the used color in this method does not change to green or red.
Application of micropigmentation in the field of makeup and beauty
This method has many applications in makeup and beauty. Because most women are fan of beauty and prefer to use a safe and permanent way to have a beautiful face.
In general, micropigmentation can be used in the following cases:
Raise the few eyebrows, design and symmetry of eyebrows with techniques such as eyebrow shading, eyebrow shadow and so on.

Permanent eye line for upper and lower eyelids, eye shadow, eyelash line

Permanent lip liner and lipstick to bulk or symmetrical the lips and eliminate white lips

Hide scars, stitches, blemishes or skin appendages such as eclipse spots

Micropigmentation is used for the scalp. In this method, the scalp looks fuller by creating shadows and fine spots, and it is just like when the hair has just started to grow after shaving. This option is usually recommended for men who have baldness and creates the effect of hair growth on the scalp.
Who is the best candidate for micropigmentation?
Micropigmentation is a permanent makeup which is used for both men and women and is suitable for those who want to change their appearance, such as the hair growth line, eyebrows, lips and make their appearance look better.
Micropigmentation is an ideal method for people who have the following conditions:
Those who are allergy to everyday makeup and want to have makeup.

People who are busy and do not have much time for makeup every day.

People who have thin, pale and indistinct lip line and want to make it look bigger.

People who have asymmetry in facial features.

People who have oily skin and usually cannot have makeup since their makeup remove quickly.

People with physical disabilities cannot or will not be able to use cosmetics easily.

People who wear glasses, contact lenses or have sensitive eyes, micropigmentation can be a good option for them. These people with micropigmentation no longer need to use cosmetics.

In addition to cosmetic purposes, micropigmentation is also used for therapeutic purposes. This method is called dermapigmentation and is used to remove scars and pimples, fix lip lines, restore the areola in people who are had chemotherapy and also for breast reconstruction surgeries.

Men who are bald micropigmentation method also used to create shadows and small spots, creating the effect of hair growth on the scalp to look fuller.
Find a reliable specialist to do micropigmentation
To get the best results from micropigmentation, this should be done by an expert and experienced person. Someone with sufficient experience, acceptable portfolio, and trained to do so.
By choosing an experienced and professional person, make sure that the final result is completely professional and accurate. Permanent makeup training is a necessary and sensitive training, and the person who is going to do micropigmentation for you must have the valid licenses and documents.
In addition, before you go to beauty clinics for micropigmentation, be sure to visit your doctor and ask your questions about this process and the effect which has on you and your physical condition. You may not be a good choice for micropigmentation due to certain medications or certain physical conditions.