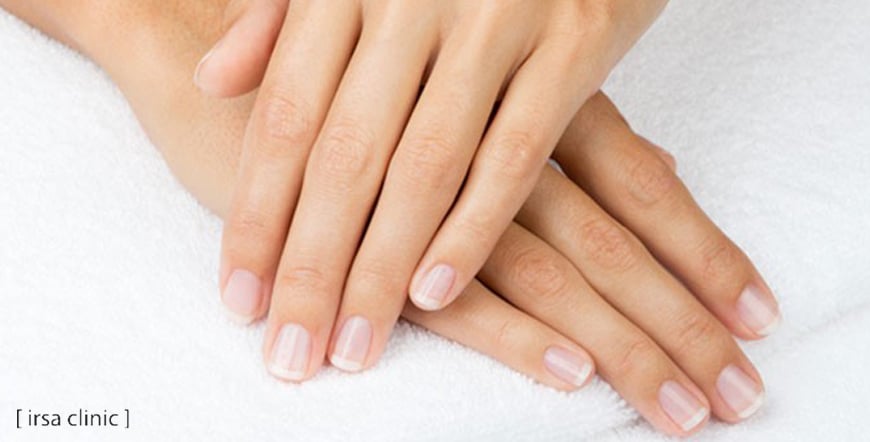 Are my nails healthy?
You can tell a lot about a person by their nails. Hobbies, lifestyle, maybe even clues about what they do for a job. Now the question arises, what do your nails say about you?
We're here to help you recognize the signs of healthy nails and show you how to keep them looking their best.
What are the components of a (healthy) nail?
Our nails are made up of different parts. Let's take a brief look at each one and how they help nail health:
• Nail plate: the visible part of the nail that contains keratin and helps to strengthen and harden your nail.
• Nail matrix: the inner part of the nail that grows the nail plate and forms the structure of your nail.
• Nail bed: the soft part under the nail plate that supports your nail as it grows. This part contains the blood vessels and tissues that give the nails their pink color.
• Eponycium: A thickened layer of living tissue that surrounds the nails and protects them from foreign invaders. Not to be confused with cuticle: the non-living tissue that grows along the nail plate.
• Hyponychium: The soft living tissue found under the top edge of the nail plate (AKA under the tip of your nail) that protects the nail bed from foreign invaders.
What do healthy nails look like?
1. They are pink, smooth and without grooves
Healthy nails should be smooth, without bumps or depressions. While ridges may not affect the overall health of your nails, you may not want them for aesthetic reasons.
Damaged nails can also have white spots or lines that result from damage to the nail. The good news is that these spots should disappear as the new nail grows.
2. They bend but don't break (usually)
Nails are one of the areas of the body that are most exposed to external attacks. Therefore, they must be both flexible and durable. Healthy nails are both strong and flexible, meaning they don't split or break as often.
3. Their texture remains constant
You may notice that your nails get harder over time – don't worry, this is completely normal. As we age, nails naturally become more brittle. However, if the texture of your nails has suddenly changed and you can't figure out why, see a dermatologist.
4. They are hydrated
An essential part of beautiful nails is having moist nails and cuticles. When your cuticles are dry, they may become more irritated. Moisturizing the cuticles helps to keep the skin around the nail in good condition.
Regular hydration with cuticle oils, hand creams, and especially moisturizing and hydrating nail treatments also helps nails absorb moisture to stay both strong and flexible.
Are yellow nails healthy?
If you apply nail polish regularly, you may have noticed that your nails turn yellow over time. This is because the pigments in some nail polishes can change the color of your nails if you apply them too often. This discoloration doesn't necessarily mean your nails aren't healthy—it just means you might need a break from polish every once in a while!
That said, yellow nails can sometimes indicate an underlying health problem. In healthy nails, there should be no yellowing on the surface of the nail as the new nail grows. So, if your nails remain yellow as they grow, see a dermatologist to see if there's any underlying cause to worry about.
How can I have healthy nails?
If you notice that your nails are showing signs of weakness, discoloration, or frequent splitting and breaking, avoid wearing nail polish first. Then, use a treatment that both strengthens and hydrates the nails.
What ingredients should I look for in nail strengthening treatments?
Choose a product that contains ingredients that increase the growth and strength of your nails and also reduce moisture. Here are a few things to keep in mind:
Pistachio gum or Roman frankincense (Pistacia lentiscus)
Keratins are an important building material for strong and resistant nails. Mastaki pistachio gum, which is made of yellow gum from a shrub called Pistachio Mastaki, and is called Ramas and Kiye in Farsi, and is known as Mustaki or Roman frankincense in traditional medicine, supports keratins, strengthens Their bonds help to improve the structure of the nail.
Silanidiol salicylate
Silicon is one of the dominant minerals in nails. This ingredient reinforces silicone, which is an important step in the growth of healthy nails.
cationic hyaluronic acid
The enhanced version of one of the most well-known moisturizers in the world that moisturizes cuticles and nails. The cationic nature of hyaluronic acid allows it to be absorbed into the skin 17 times better than regular hyaluronic acid.
In the end, if you are looking for nails with a healthier and stronger appearance that grow faster, first of all, you should pay attention to the overall health of your body, diet and essential vitamins to strengthen your nails, and at the same time, avoid nail strengtheners that are Use creams or drops that contain the above ingredients. It goes without saying that some home remedies for strengthening nail growth and strength are also very effective. So don't forget to include your nails in your daily skin care routine and give your hands beauty, youth and freshness for a long time.
Get your free consultation with Irsa team right here

WhatsApp: 00989170626693

Email: irsaarabic@gmail.com

www.youtube.com/@irsaclinic

www.facebook.com/irsaclinic
Also read:
Eyebrow transplantation in Iran Shiraz
Breast Reduction Surgery (Mammoplasty)