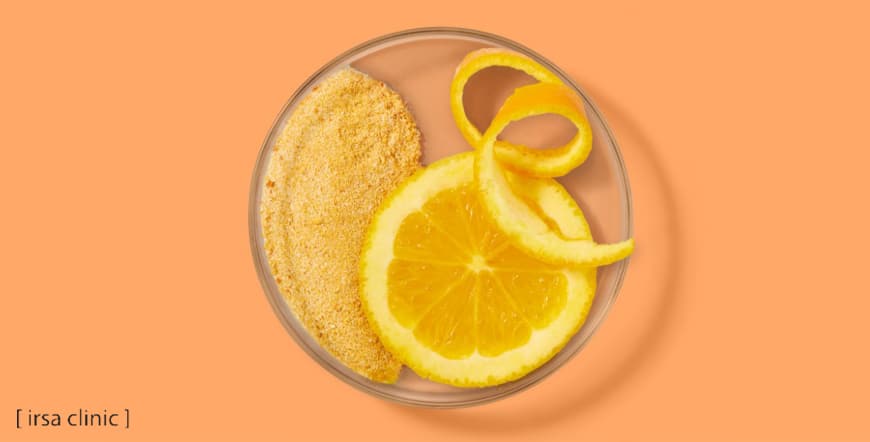 7things you didn't know about vitamin C
We remember vitamin C from the days when it was associated with the common cold. Of course, today vitamin C is the secret of skin radiance. But what are the benefits of this vitamin that have made it such a popular skin care ingredient? Remember these seven key facts about vitamin C in skin care and beyond.
Orange is not the best source of vitamin C!
Although oranges contain a lot of vitamin C, they are not at the top of the list. Oranges contain 50 mg of vitamin C per 100 g, while other foods such as black grapes (177 mg), raw red bell pepper (139 mg), kiwi (92.7 mg) and strawberries (58.8 mg) grams) contain more vitamin C.
But what does it have to do with your skin? According to the American Academy of Dermatology, "Nutrient-rich whole foods like fruits and vegetables, whole grains, and healthy fats are good for the whole body, and that includes your skin." Stick to a fresh, seasonal diet that's rich in raw, colorful produce and don't forget.
You need vitamin C in your diet (and your skin routine).
Vitamin C is an important part of your diet and helps support your immune system. But when it comes to your skin, you may want to consider using topical vitamin C skin care products in addition to adding it to your diet.
Applying vitamin C topically allows the vitamin to be absorbed directly by your skin. Meanwhile, eating vitamin C divides it between different organs. Also, remember that your body only absorbs a certain amount of vitamin C that you eat.
Vitamin C is a strong antioxidant.
As the name suggests, antioxidants (such as vitamin C) help prevent oxidative stress. Normally, our body can fight oxidative stress through its antioxidant defense. But sometimes, free radicals (from pollution, overexposure to sunlight, etc.) overwhelm our bodies and cause oxidative stress. This factor can affect different layers of the skin. What is the harm caused by this? Visible signs of skin aging.
But there is good news! Topical application of vitamin C can help increase your body's antioxidant production capacity or help neutralize free radicals in the skin.
Vitamin C can support skin collagen production.
Vitamin C helps in the natural production of collagen in your skin. Collagen is the factor that keeps the skin stretched and smooth. That's why vitamin C is often found in antiaging skin products, as it helps improve skin's firmness and elasticity.
Vitamin C is a skin lightening powerhouse.
This is the most well-known benefit of this skin superhero. A soft glow that makes your skin look fresh. Vitamin C lightens the darkness caused by the natural aging process of the skin or external factors such as tobacco smoke and pollution. Routine use of this vitamin can also help reduce the appearance of sun spots and even out your skin tone.
Not all vitamin C products are the same.
The higher the concentration of vitamin C, the more powerful the product? it depends. Concentrations of 20% and above can have an oxidative effect – exactly the opposite of what we are looking for (which is an antioxidant effect). The ideal concentration range of vitamin C for the rejuvenating effect is between 5 and 15 percent.
There are different types of vitamin C.
Ascorbic acid is the purest form of vitamin C. Other forms to look for include ascorbyl palmitate, sodium ascorbyl phosphate, tetrahexyldecyl ascorbate, ascorbyl glucoside, and magnesium ascorbyl phosphate. You may see these when checking the label of your vitamin C serum or other products you use.
Get your free consultation with Irsa team right here

WhatsApp: 00989170626693

Email: irsaarabic@gmail.com

www.youtube.com/@irsaclinic

www.facebook.com/irsaclinic
Also read:
Eyebrow transplantation in Iran Shiraz
Breast Reduction Surgery (Mammoplasty)